What do you see when you look at this picture?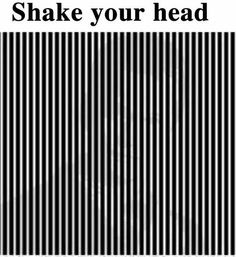 Most people see up and down stripes – at least initially.
Turn your head sideways -almost shake your head a couple of times- and then take another look.  Now what do you see?
A person.
It's amazing the difference that even the slightest change of perspective can make.
In your work as a leader, I want to encourage you to regularly shift your perspective. (Shake your head.) This intentional shift in perspective will frequently provide you with important information that will be of value to you as a leader.
How do you shift your perspective?
Intentionally have conversations with a completely different set of people. If you usually receive input from your staff, instead talk with volunteers or other departments.  Or talk with individuals completely outside of your organization or niche.
Read, watch or engage in something that has nothing to do with your subject matter or niche. I know of one business coach that studied ballroom dancing.  He later reported the valuable contribution that ballroom dancing made to his business coaching.
Physically go to a different location. It's interesting how much our environment influences us.
You get the idea.
All the best,

_______________________________________________________________________________
 
New Online Classes –
Starting in October!
Click the buttons below for more information:

Modules 1 & 2 – Begins October 3, 2016 and ends on December 5, 2016 -Monday afternoons from 1-5pm Eastern Time.

Modules 3 & 4 – Starts October 4, 2016 and ends December 6, 2016 – Tuesday evenings from 6-10pm Eastern Time
Answers to Frequently Asked Questions:
You may complete the four modules in any order.
Can't commit to 10 straight weeks of training? Take the classes that work for you now and complete the classes that you missed the next time that they are offered.